Featured Item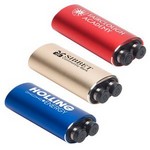 Harmony True Wireless Earbuds and 2000mA...
Dual rechargeable true wireless ear buds that retract into the base unit, 2000mAh rechargeable power bank, Wireless connection up to 30 ft., Playing time: 2 hours | Charging time: 4 hours(power bank),...
$33.75 - $36.55

Welcome to our New Product Search site!
We hope you take the time to search the many wonderful products that can be custom designed and printed just for you. Just go to the Quick Search bar and type in what you're searching for. Please check back periodically for Product Samples, Popular Products and Featured Items updates. If you have any questions, please contact us today. Thank you and enjoy!
THE HENDERHAN TEAM